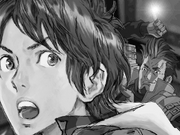 Hi there, and welcome to my page! I'm 343 GuiltySpark!
If you'd like to leave a message, please do so in my Talk Page and leave your signature.
About Me
As a member of Wikipedia since 2006 and a member of Wikia since 2008, I've brought quite a bit of experience behind me. I've been familiar with the Wiki syntax for a long time but what I also specialize in is images. If you'd like to tell or ask me about anything about 9 Doors, 9 Persons, 9 Hours I'd prefer that you answer on this talk page, or alternatively, if it's anything else, you can do so on any of my other pages:
Stuff and Software I use (for those of you who care)
Although I usually play the official game on the Nintendo DS, I am currently using the DeSmuME emulator to rip sprites and other data from the game. Images are then processed through Adobe Photoshop CS5 and saved in their native format, PNG. Animated GIFs are ripped in raw AVI format using DeSmuME's capture feature and are then converted into animated GIFs and finally processed and rendered through Photoshop.
Thou shalt not post any images edited using MS Paint on this wiki. Bad. Bad. Bad.